MESSAGE FROM DEAN
Dean' s Message for Our New International Doctoral Program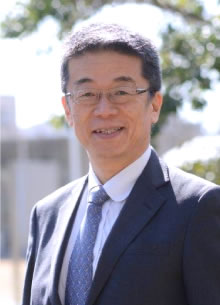 Since its establishment in April 2012, the Graduate School of Environmental and Life Science, Okayama University, has been focusing on education and research with the aim of solving comprehensively and cross-cuttingly about various issues related 'the environment and foods'.
The issues of "environment and foods" have been piled up not only in Japan, but also in other countries, especially in Asia and Africa . Therefore, we have been making eff o r ts to accept international students from these countries. Our Graduate School has also aimed to train global practitioners with an international perspective, through practical education and research in close collaboration with local communities and countries around the world.
In our master course, there is a Global Science Course curriculum, in which international students can learn on environmental and life science in English to contribute to the globalization of the research field. For more than 10 years, we have offered a sub-major curriculum on environmental management and agricultural development to excellent Vietnamese students who want to become an immediate fighting force in agricultural and environmental fields, in cooperation with Hue University (and also by receiving great support from local companies in Okayama). Many of them who completed our master/Ph.D. courses have already contributed greatly to solving environmental problems and rural development, as university faculty members and government employees, in their home countries.
Since October 2016, to accelerate the large flow of excellent talent, we have started a new international doctoral program for young faculty members and researchers in Asia and Africa. On this site, we are providing an introduction to our new doctoral program and the charm of our graduate school. I sincerely hope that many students will enter into our new doctoral program and join with us, in order to obtain powerful skills to solve various subjects in environmental and life science.
In March 2018, as part of promoting further exchange with Department of Science and Technology of Dong Nai province and as a base for our graduate school in Southeast Asia, we also opened an international office in Ho Chi Minh City. Everyone in the Southeast Asian region, please contact this international office. Our coordinator will try to match with professors in the Graduate School of Environmental and Life Science, Okayama University.
Hiroaki FUNAHASHI, Ph.D.
Dean of Graduate School of Environmental and Life Science