ABOUT OKAYAMA UNIVERCITY
One of the largest National University in Japan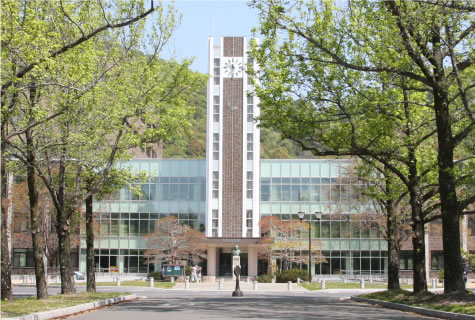 11 Faculties (including 2 schools)
7 Graduate schools
1,399 Faculty members
10,240 Undergraduate students
11 Faculties (including 2 schools)
2,981 Graduate students
(510 International students)
Campuses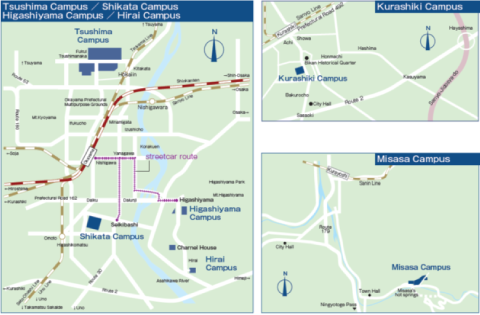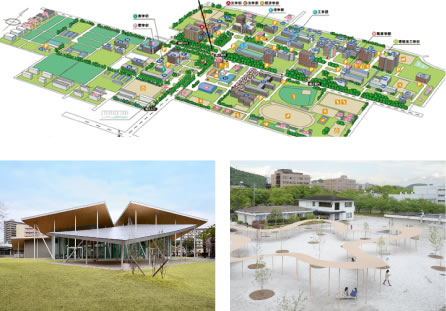 Academics  One of the largest National University in Japan
11 Faculties
Faculty of Letters
Faculty of Education
Faculty of Law
Faculty of Economics
Faculty of Science
Medical School
Faculty of Pharmaceutical Sciences
Faculty of Engineering
Faculty of Environmental Science and Technology
Faculty of Agriculture
1 Course
7 Graduate Schools
Graduate School of Education
Graduate School of Humanities and Social Sciences
Graduate School of Natural Science and Technology
Graduate School of Health Sciences
Graduate School of Environmental and Life Science
Graduate School of Medicine,  Dentistry and Pharmaceutical Sciences
School of Law
History of Okayama University

Staff, Students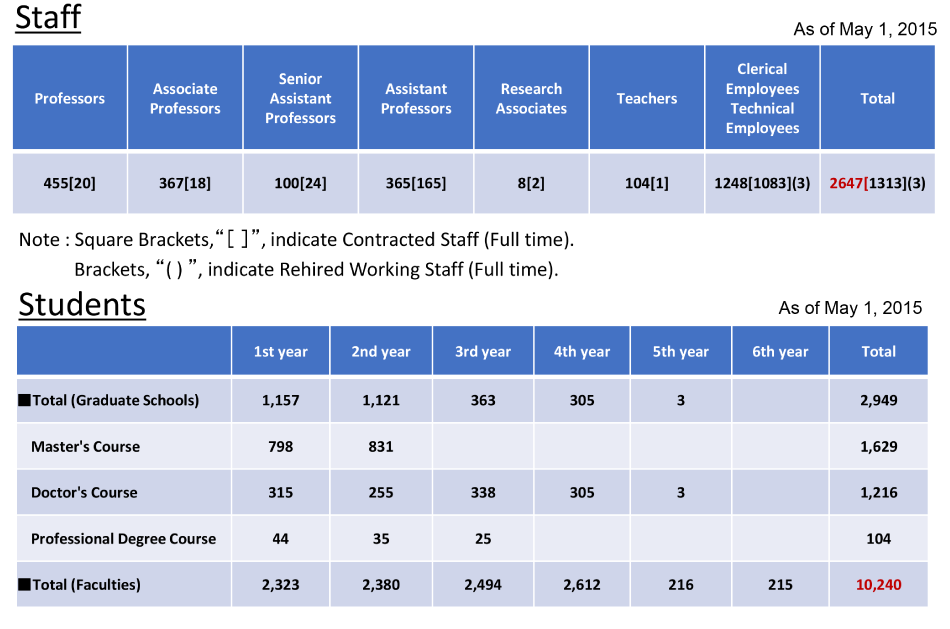 Distribution of International Partners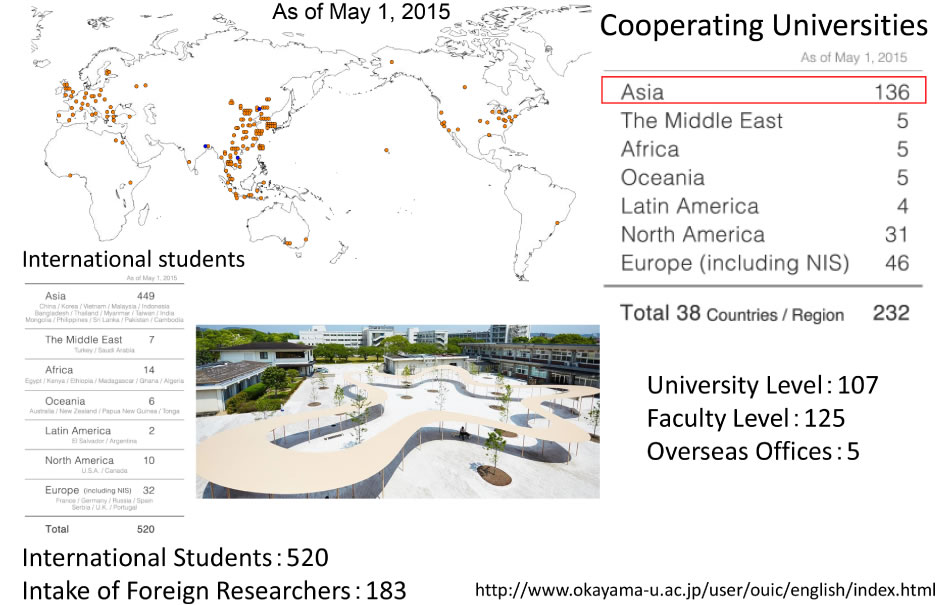 Okayama University Offices
Tokyo Office
Okayama University Tokyo Satellite Office
Overseas Offices
Okayama University:Japan Educational Information Center, Myanmar

Okayama University Office in Hue, Vietnam

Okayama University Offices in Changchun, Shenyang and Shanghai, China
Okayama University Office in London, UK
Okayama University Office in Silicon Valley, USA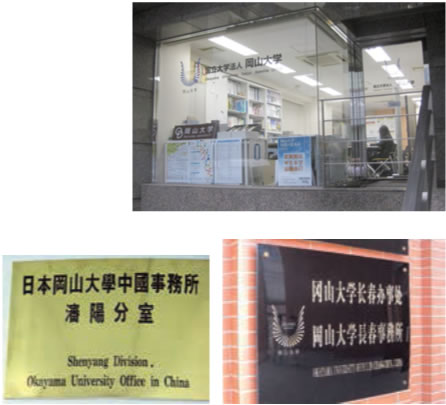 Challenge toward a global university
Best global universities 2015 – US News & World Report
http://www.usnews.com/education/best-global-universities
Okayama University is ranked in:
#377 in the world
#59 in Asia
#13 in Japan
Subject: for Plant and Animal Science Okayama University is ranked in:
#83 in the world
#9 in Asia
#5 in Japan
Scholarships
Japanese Government (Monbukagakusho: MEXT) Scholarship
JASSO Honors Scholarship for Privately Financed International Students
( "Gakushu-Shoreihi" )
Scholarships by Local Governments, International Associations, and Private Foundations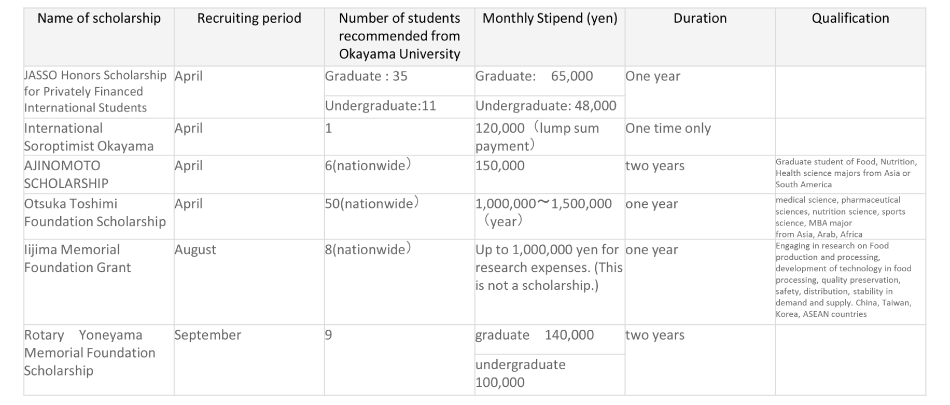 Dormitory for International Students
Okayama University has four dormitories for international students. International students can live there for one year from their entrance to the university.
Rent (including television license and internet charge):20,000~ yen /per month
*Rent is subject to change.
*Residents are responsible to pay for their personal consumption of gas and electricity besides the rent.
Period of Stay : 2 weeks to 1 year
*Period of residence must be stated on the 'Permission for residence'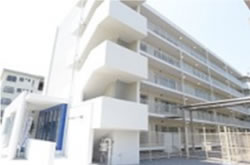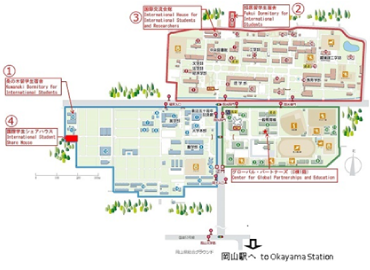 Number of Vietnamese Students Studying at Okayama University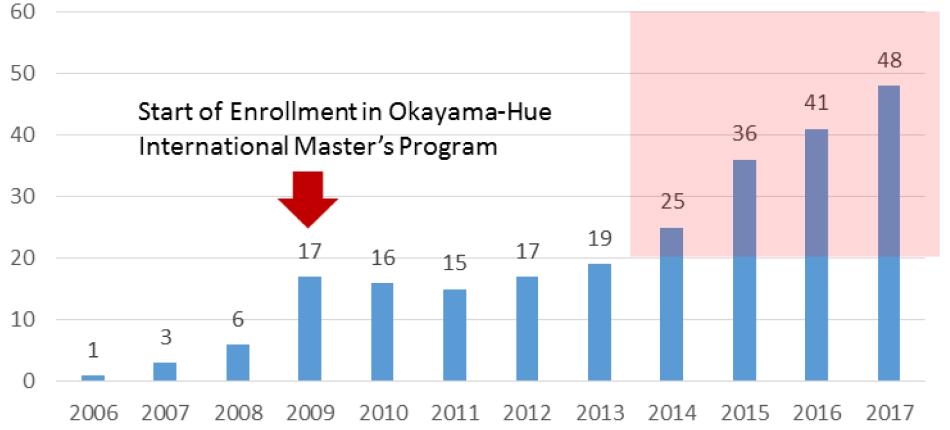 OKA-VINA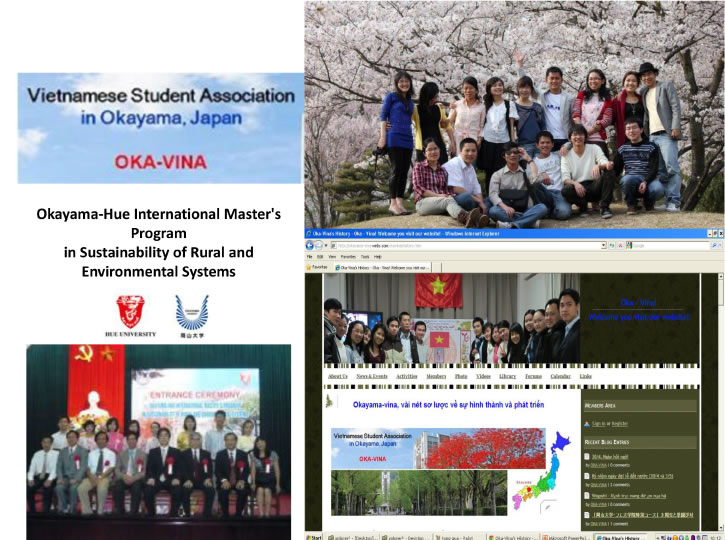 Hue-Okayama Master Program